Shopping Cart
Your Cart is Empty
There was an error with PayPal
Click here to try again
Thank you for your business!
You should be receiving an order confirmation from Paypal shortly.
Exit Shopping Cart
C/Écija nº 16 Torremolinos Málaga 29620 ES
Centro de Medicina Natural y Estética
CASATERAPEUTICA. TORREMOLINOS 952563205. 646 219611
| | |
| --- | --- |
| Posted on August 28, 2018 at 2:55 PM | |
Autismo. Metales pesados y Oligoelementos
   El autismo es una patología multifactorial, observada en  niños con niveles alterados de elementos esenciales y  niveles elevados de elementos tóxicos. Por tanto, el bueno saber el nivel de los mismos en pacientes con enfermedad del espectro autista.
  En un estudio para evaluar los niveles de oligoelementos como el cobre (Cu), zinc (Zn), magnesio (Mg) y selenio (Se) y elementos tóxicos como el mercurio (Hg) y plomo (Pb) en el pelo y las uñas muestras de niños autistas se encontraron los siguientes resultados:  
   El nivel de Cu en los niños autistas podría relacionarse con su grado de gravedad (más la carga Cu -> autismo es severa). 
    El estudio mostró una elevación significativa  en los niveles de metales tóxicos Pb y Hg en muestras de pelo y uñas de niños autistas en comparación con el grupo de control saludable. 
  Los niveles de oligoelementos Mg y Se fueron significativamente menor (p < 0,001) en los niños autistas en comparación con el control. 
 El elemento traza Zn mostró una variación significativa en el pelo y las uñas de los niños de grupo  con autismo menos severo  en comparación con el grupo de control. ( 
Lakshmi Priya MD, Gita A. 2011 .
, 
Gita A
 ).

Pero además tenemos otros minerales y metales pesados relacionados con el autismo o enfermedades del espectro autista.
  1. Aluminio.
 En este estudio realizado por Mold y Cols,
 ( Molde M., y cols. 2018., y cols, 2018 )
 , en la universidad  de   Keele, Staffordshire, Reino Unido, llego a las siguientes conclusiones:                        1. La cantidad de aluminio encontrada en los cerebros autistas fue extraordinariamente alta.                                                                                 2. Vieron más aluminio de lo que habían visto en casi cualquier otra circunstancia o enfermedad.                                                                              3.La mayoría era aluminio intracelular dentro de poblaciones de células no neuronales.                                                                                             4.  El aluminio en las vacunas está desempeñando casi seguramente un papel en el autismo.                                                                                                5. La investigación solo fue posible debido a la filantropía.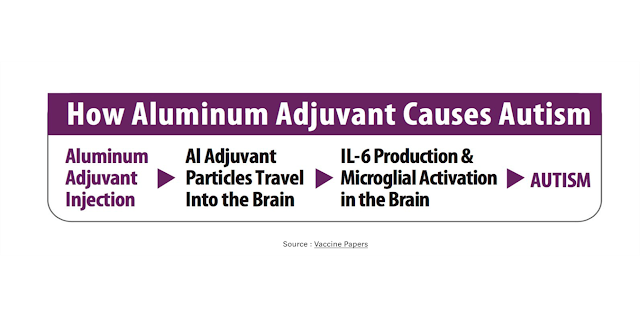 2. El mercurio.
 Una búsqueda bibliográfica sistemática de estudios originales sobre la posible relación entre el mercurio (Hg ) y la enfermedad del espectro autista (ASD ) de agosto  de 1999 al  2015, encontraron los siguientes resultados: Los estudios con afiliación a la salud pública y / o industria, el 86% no informaron ninguna relación entre Hg y ASD. Sin embargo, entre los estudios sin afiliación a la industria o la salud pública, solo el 21% no encontró relación entre Hg y ASD. La discrepancia en estos resultados sugiere un sesgo indicativo de un conflicto de intereses. ( 
Kern JK. y cols. 2017)
.             
                                                            
     3 . Antimonio
 En una revisión sistemática  y meta-análisis;  que incluyen 52 estudios de los cuales incluyeron 48 estudios en los metanálisis,  se vincula el autismo y metales tóxicos por los siguientes resultados:  Mayores niveles en  de sangre y eritrocitos de mercurio y plomo, y  nivel más alta en  pelo de antimonio, cadmio, plomo y mercurio  
 ( Saghazadeh A, Rezaei N . 2017 ).    
                                                               
  4. Cadmio.
La exposición al Cd en niños se ha relacionado con trastornos del desarrollo, especialmente trastorno del espectro autista (TEA). Los estudios han encontrado niveles elevados de Cd en el cabello y la sangre de los pacientes con TEA.
Se estudio el pelo de 1.967 sujetos, en   584 (29.7%) y 347 (17.6%) fueron encontrados deficientes en zinc y magnesio, respectivamente, y la tasa de incidencia de deficiencia de zinc se estimó en 43.5% en varones y 52.5% en sujetos femeninos de 0-3 años de edad. Por el contrario, 339 (17,2%), 168 (8,5%) y 94 (4,8%) individuos sufrieron altas cargas de aluminio, cadmio y plomo, respectivamente, y 2,8% o menos de mercurio y arsénico 
( Yasuda H, Tsutsui T. 2013 )
.
          MINERALES 

  1. Manganeso
Se estudió los niveles de plomo, mercurio y manganeso en el esmalte dental de los dientes en  84 niños.El manganeso acumulado después del nacimiento se redujo en un 60% en niños autistas. Ningún otro resultado fue estadísticamente significativo. 
( Abdullah MM. y cols. 2012.). 
     2. Azufre

 En un estudio sobre 232 niños autistas, se comprobó que tenían bajos niveles de sulfato en suero, en orina excretan mayores niveles de sulfatos, sulfitos y tiosulfatos, pero poco tiocianato ( Waring, R.H.; Klovrza, L.V.  Sulphur Metabolism in Autism. - J  Journal of Nutritional & Environmental Medicine: 10, 1, 1 March 2000 , pp. 25-32(8) ).
 Los diagnosticados con trastorno del espectro autista (TEA)  tuvieron significativamente disminución en  plasma el glutatión reducido ( GSH), cisteína,  taurina, sulfato, y sulfato  libre con relación a los controles. Por el contrario,  TEA tuvieron  aumentó en plasma de glutatión oxidado (GSSG) 
(Geier DA. y cols. 2009. y cols, 2009).
De los estudios anteriores se desprende que hay un desequilibrio en los oligoelementos (cobre, zinc, manganeso, selenio y azufre) y un exceso de unos o mas metales pesados (aluminio, antimonio, cadmio, plomo  y mercurio. Por ello , el análisis de minerales, metales pesados y oligoelementos a nivel intracelular es importante para pacientes del espectro autista. 

                     Casa Terapéutica.                                  c/ Ecija nº.16 Torremolinos. Málaga                       Tlfno. 952 56 32 05.   646 21 96 11
Categories: Autismo
/